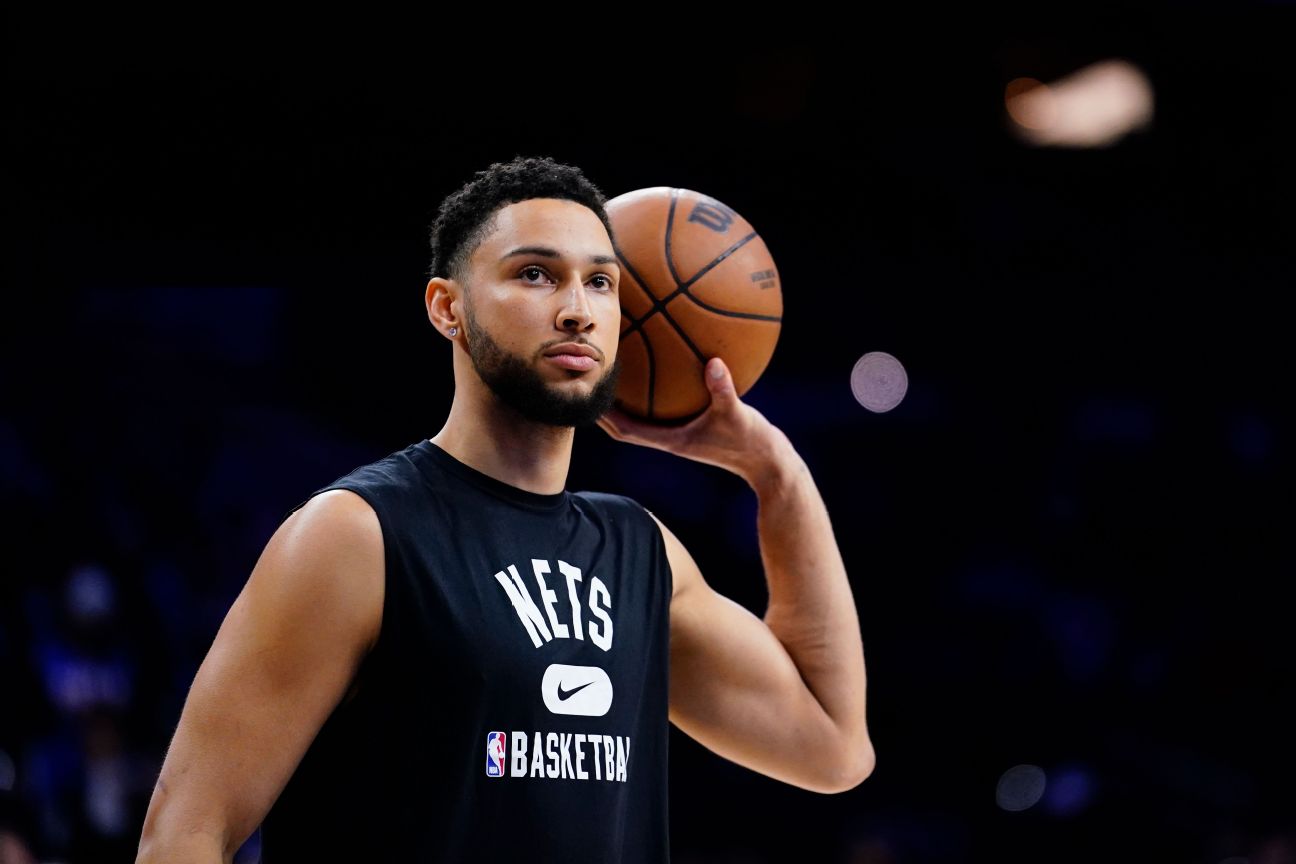 Ben Simmons said in an interview published Thursday that he wanted "help" during his time with the Philadelphia 76ers and that many in the organization did not support him because of his struggles with mental health.
"I was in a really bad place, f—, I'm trying to come here, guys, you're throwing all this at me where it's not helping. That's all I wanted, was help," Simmons told former Sixers teammate JJ Redick. "The Old Man and the Three" Podcast.
"I didn't feel like I got it from the coaches, the teammates — I wouldn't say all the teammates, because there are great guys on that team and they're still my friends — but I didn't feel like myself. It got there, and it was a tough spot for me."
Simmons, a three-time All-Star, was acquired by the Brooklyn Nets in February as part of a blockbuster trade that sent James Harden and Paul Millsap to the Sixers. Simmons did not play for any team during the 2021–22 season, undergoing surgery on a back injury in April, prompting a trade to Philadelphia following the conclusion of the 2020–21 season.
In February, Simmons said he didn't feel like himself during his five seasons in Philadelphia.
He told Redick he was trying to "do the right thing" by trying to get back on the court before last season — after threatening not to play for the Sixers again — but was pulled from practice by coach Doc Rivers. Simmons was "concerned" after repeatedly refusing to commit to a practice. He was eventually suspended for conduct detrimental to the team.
"I actually talked to Doc before practice. I said, 'Doc, I'm not ready. Mentally, I'm not ready. Please understand that,'" Simmons said on the podcast. "I tried to let him know beforehand, and he was like, 'Okay, I'm going to put you in anyway.' I was like, 'Okay.' He asked me to go in and I looked at him and it was like a minute into practice, 'Ben, get in'.
"I, at first, nobody did that. You're doing it on purpose. I felt the same way. Now it seems like everybody's trying to f— with me. I'm getting penalized. For not lifting weights, but physically I'm one of the f—ing strongest guys on the team. One, so now they're penalizing me for little things, it's just a buildup, obviously, I didn't handle things. The right way, but neither did the team, the people in power."
Simmons, the No. 1 pick in the 2016 draft and one of the league's best defenders, reached an agreement with the Sixers to return a portion of the $20 million, ESPN reported in August.
"I don't care about the money," Simmons told Redick. "It's not about money for me now. I want peace and happiness. I want to be in a good place, and if it costs me, that's what it costs. My peace is more valuable than money."
He will be ready to start training camp with the Nets later this month, joining new teammates Kevin Durant and Kyrie Irving.
"It's sick. I can't wait," Simmons said on the podcast. "I'm really excited, I got a new number, a new jersey. I'm looking forward to it. I think we have a special team. I think if we all come together, we're going to be champions. That's the ultimate goal."