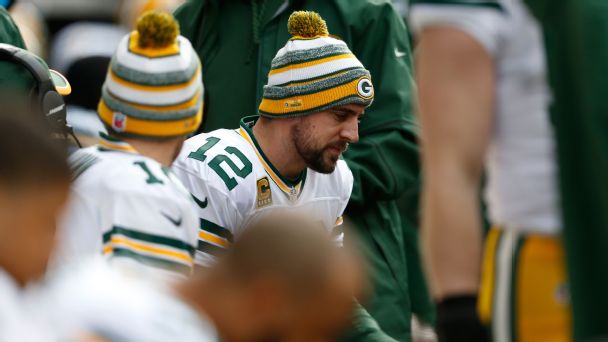 Green Bay, Wis. — Aaron Rodgers still hasn't seen the video of Tom Brady throwing a tablet on the Tampa Bay Buccaneers sideline during a frustrating stretch of Sunday's game against the New Orleans Saints in the third quarter.
But on Wednesday, the Green Bay Packers quarterback wanted to note that if Brady threw it, it was different from his infamous tablet treatment in a game against the Carolina Panthers during the 2015 season.
"Tossed," Rodgers said Wednesday. "Threw," he repeated.
"I don't think I threw it hard enough to do any damage," Rodgers added.
Brady apologized for "breaking the tablet" — the second time he's thrown one against the Saints — and predicted it would "become another Twitter meme."
That was Rodgers' tablet toss.
He did it after seeing a wide picture of Randall Cobb in the end zone for a potential game-tying touchdown on fourth-and-goal against the Carolina Panthers in 2015. At the time Rodgers said he was "terrified". Because of something" and missed the file.
Ahead of Sunday's Packers-Buccaneers game in Tampa, Rodgers said it was the first time he had done that. He didn't do it even though he wanted to.
For the record — and Tom Brady's apology for "breaking a tablet" in frustration against the Saints last Sunday — Aaron Rodgers said today that he didn't throw it hard enough in 2015.

Either way, they are now tied 1-1 in the tableau toss heading into Sunday's matchup. pic.twitter.com/Oc8MiosoQh

— Rob Demovsky (@RobDemovsky) September 21, 2022
"Testing? Hell, all the time," Rodgers said. "Really? I did it once. Not the tablet's fault, but it's hard to remember at the moment… I only threw it once where it hit the floor. I might have thrown it. To a guy holding it, but I did it once. Only threw it, no intention of smashing it. It was, 'Get away from me.'